Calling all Fashion, Beauty and Health bloggers
Hi Guys,
I am super excited to announce I will soon be featuring guest bloggers on this website. If you write about fashion, beauty or health then I would love to see your work!
I'm looking for the most creative, up-and-coming new talent. Love what you write about and let the world hear you! Simply go to the Ask Gok page to send me your details and a small sample of your work.
Good Luck!
Gok x
Gok's charity of the month – September: Magic Breakfast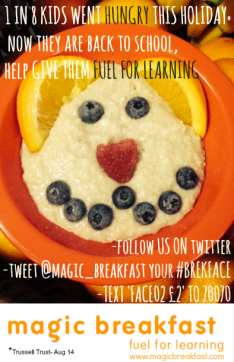 Hello my lovelies,
I'm sure its back to school for many of you!
I don't want to start on a sad note for your new term, but it is sad to know that so many school children don't get a simple breakfast before they start school. A lot of these kids have gone hungry over the holidays for many different reasons!
So I am asking you to help support this amazing charity, Magic Breakfast, which helps to provide breakfast to the most needy children so they can concentrate on their education rather than their empty tummies!

It can be as simple as giving £2, which gives a child breakfast for 2 weeks – just text 'FACE02 £2' to 70070. It really is that simple! Have a read on to see more about their work and how you can help!
Love you guys, and whether you're going back to school or back to work, have an amazing September!
xxxx
Read more about Magic Breakfast and the amazing work they do.
My brand new Autumn 2014 collection for Sainsbury's Tu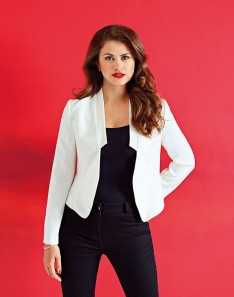 My Spanish, toreo-inspired collection is in stores from 26 August!
It's inspired by the strength and versatility of the contemporary woman, reflecting the many roles that you fulfill in your everyday lives. There are clean lines and structure, coupled with romantic baroque prints and soft, luxurious fabrics. I hope you love it! xx
My interview on Today.com: Gok Wan shows women how to love their bodies — naked
"When you stand on your own in front of a mirror completely naked, if you can accept that reflection, you are in such a more affluent place, to feel so much better about your life. It's my mission, I've made it my mission to try and help every woman in the world feel better about herself and her body … and correct all of her wardrobe woes…"
Broadcaster Of The Year Nomination!

Thank you for my nomination of broadcaster of the year from Out In The City Readers' Awards! Fingers and spandex crossed! x
You can vote here
Support World Aids Day!
A message from Gok Wan for World AIDS Day.
Commissioned by National AIDS Trust, produced by Michal Dzierza for Meehow Productions.
Music: "I dunno" by Grapes.
Make sure you've got your ribbon from the National AIDS Trust.
Gok's Cookalong Live
Cookalong with Gok Wan from Ebury Publishing on Vimeo.
Gok's Wok – out now!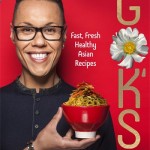 Look out for Gok's Wok, my brand new cook book stuffed with fast, fresh and healthy Asian recipes. I have absolutely loved developing these recipes for you guys – there are so many dishes to cater for every part of your life – from healthy lunches to tasty, sharing curry feasts, plus ideas for date nights, dinner parties and never-to-be-shared one-pot wonders just for you!
Get your hands on a copy in all really, really good bookshops and online too!
Plus join me in a fab live cookalong on Weds 16th October – all the details here!
Sign up now for FREE KS3 self-esteem / body confidence workshops in your school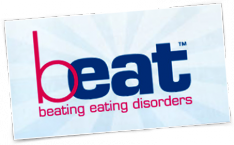 Did you know that there are free facilitated KS3 self-esteem & body confidence workshops being offered in schools right now?
The workshops are organised by Beat: the national UK charity that aims to prevent eating disorders, and The Dove Self-Esteem Project: an initiative that aims to equip young people with the tools they need to feel confident.
Find out more and get your school involved!
Gok x
Be bold and beautiful with my Specs Range!
Hi Guys, my second range for Specsavers is in stores and I am so excited for you to see them! This range is all about making your glasses the very first part of your outfit- they are a massive statement piece- so be bold and beautiful and wear them with pride! And if you're feeling uber confident why don't you go to my Gokettes gallery and post me a pic of you in your gorgeous specs…I am dying to see! Watch the video below to see the range in action (you'll need Flash Player to see the video). Auntie Gok xxx