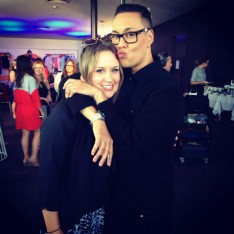 I met Gok today, the theatrical, well-manicured guy from the Target ads. He's pretty hard to miss.
He exceeded my expectations. Super funny. Very entertaining but beyond this, and there's no other way of putting it plainly, he knew his shit. Back to front.
There wasn't a question he couldn't answer about fashion (which this is to be expected because he's stylist, right?). Well yes, however he answered with care, precision and knowledge of the way us females dress. There was a really nice feeling in the room, like Gok 'got me'.
I told him cheekily that I did need to see WAY more options for maternity wear at Target (being 20 weeks pregnant, it was a selfish request) and he held my shoulders and said 'Darlin' I'm workin' on it…gimme time'.
Genuine. Fun. Target have got themselves an ambassador that actually does the job that an ambassador should do. Yeh, he's the face of their latest campaign. But he's also the heart of it.
I asked him what he thought the TOP 5 STAPLES were of Spring and Summer.