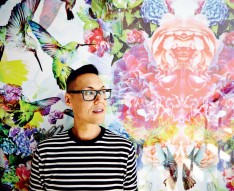 The sisterhood adores Gok Wan. He's most girls' dream gay best mate. But today, the style guru is more muted than on the telly.
We've been discussing Gordon Ramsay. For anyone who watched that episode of The F Word when Wan reduced Ramsay to a flustered mouse, it was a rare sight. 'He's very sexy. He was flirting! I was flirting a lot though,' he recalls, chuckling quietly.
'I've only met Gordon a few times but he gets easily flustered, you can embarrass him playing the gay card.'
Wan – bird-limbed, plump-lipped, a slender beauty of 39, who looks younger in person – is a top flirt; his positivity and charm all add to building men and women's confidence.
He was a 21-stone teen and left school at 14 but by his twenties he'd blossomed, losing ten stone. Since then his charisma has rocked the nation. 'It's been ten years now,' he says. 'I do pinch myself. It's almost like I can't remember not being famous.'