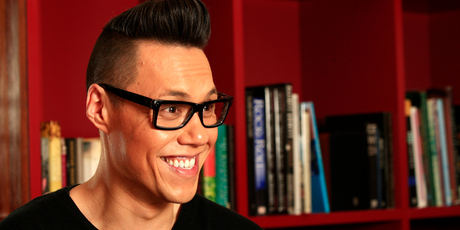 Gok Wan is keen to bring his hit TV fashion makeover show to New Zealand.
The How to Look Good Naked star arrives in New Zealand this week for a whistlestop tour.
Asked about filming an episode in New Zealand, he said: "Oh my God, that would be amazing. I'd love it and I know Kiwi women would love it too. I will have to get my thinking cap on to get that project started."
The British style icon postponed a previous trip to New Zealand after injuring his back.
Wan said he hoped to catch up with his friend, New Zealand's Got Talent host Tamati Coffey, while he was here. "If he is in town I would love to see him – we had a giggle."
Wan said he had been impressed by Kiwi men's sense of style.
"Whether it's a rugged, really masculine look or polished 'city suit' style. They're all more than handsome enough to pull off the rough-and-ready look."
He said the New Zealand casual look was popular around the world at the moment.
"Dressing for the elements is something that Kiwis and Aussies share when it comes to fashion. I love the layers, textures and amazing fabrics like merino that you see in Kiwi fashion.
"The casual look is definitely big at the moment but I'd say that taking cues from the runway or hot trends to just kick outfits up one or two notches would really enhance the casual look."
Wan added he would be heading to Ponsonby Rd for a bite to eat and shopping if he had the time.
Wan will appear at:
Westfield Albany on Tuesday at 12.30pm;
Westfield Manukau City on Wednesday at 12.30pm;
Westfield St Lukes on Thursday at 5.30pm.