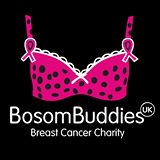 Happy August everyone, wow what a summer it has been, beautiful weather, fabulous people and of course another amazing charity that I want you all to know about!
As I hope you all know breast cancer affects way too many men and women across the world, and we need to do everything in our power to help the people affected, but also educate everyone on how to spot the signs and also understand that help is at hand. Bosom Buddies are an incredible charity that do just that, please read on and find out how you can help! Love you xxx
Breast cancer is the most common cancer in the UK. Around 48,000 women are diagnosed in Britain each year. Alarmingly this disease is seeing younger women diagnosed more frequently, and there are at least 400 cases recorded each year of male sufferers (so chaps get checking your moobs!!)
BosombuddiesUK's mission is to improve the general well-being and care of young women and men, through the education and provision of information highlighting the signs and symptoms of Breast Cancer. If caught at an early stage the treatments are so much more effective and survival rates higher. Knowing your body could actually save your life!
How do we do this? By visiting Secondary Schools all across the UK and speaking to Year 11 Girls
Why Year 11 Girls? It's the last time you can gather 90% of the female population together in one place to educate them.
For what purpose? To educate and empower these girls to see no fear in the disease, to be confident enough to check themselves and be aware of signs and symptoms and to come forward at an early point. This will mean less invasive treatment – we would like to think Mastectomies and Chemotherapy will, over time become a rarity not the norm!
BosombuddiesUK is the brainchild of Pauline Giles and was set up in 2011. In 2010 Pauline had Breast Cancer – 'Orange Peeling' to her left breast – the skin looked like the skin of an orange, one of the signs of Breast Cancer few women know about! Surgery followed a week later and after a very brief spell to recover the Charity was born.
In the last three years Pauline has been body painted naked, designed a range of merchandise, brewed her own beer, began placing pink spotty clothes bins all over the UK, driven all over the continent on rallies in a pink London Taxi, been to the House of Commons five times, met Nick Clegg, Donald Trump and Gok Wan, had MPs around to her house for coffee and cake! Culminating in this academic year, seeing 5,000 girls in schools from Wigan to Penzance!
BosombuddiesUK will be at the forefront of sharing new techniques and empowering men and women to see no fear but we need your help to get there ….You can support us in a number of ways and help raise funds to educate and save lives – make a donation by text to BAPS33 on 70070, set up a monthly direct debit or buy some of our fabulous BBUK Merchandise – You might want to contact us about fundraising opportunities?
There's lots of exciting plans afoot and you can follow our antics on twitter @bosombuddies_uk , like our Facebook page Bosombuddiesuk and check out our website www.bosombuddiesuk.com. We are always glad of help fundraising, and are always looking to recruit young Breast Cancer survivors to become Buddies – if you think you can help with any of this, please make contact.