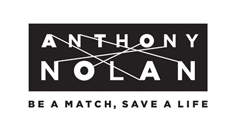 Hey Guys,
I am very proud to introduce you to my charity of the month for August; Anthony Nolan.
I first found out about this incredible charity last year when they were organising an event in my hometown of Leicester. A very poorly young girl called Bethany was taken ill with Leukaemia for the third time and her body was really struggling to cope with all the chemo so the best thing for her was to get a bone marrow transplant. Now not only is this a very serious op, it's also really tough to find matching donors- but we got the message out there and record numbers of people turned up to offer themselves as donors and go on the register…and thats why i want you lot to know about these guys and help young girls like Bethany- they are desperate for you to sign up to the bone marrow register!
Imagine if you could save a life! What a gift that would be!
Thank you my lovelies, loads of love xxx
Please read on to find out more about this amazing charity!
Anthony Nolan is a pioneering charity that saves the lives of people with blood cancers and blood disorders, like leukaemia and aplastic anaemia. Every day we use our register to match remarkable individuals willing to donate their blood stem cells (often known as bone marrow) to people who desperately need lifesaving transplants.
In 1974 Anthony Nolan's mother, Shirley, set up the world's first bone marrow register, in the hope of finding a match for her son who had a rare genetic disorder. Now, every day, we help two people in need of a lifesaving transplant by using our register to find them a donor with a matching tissue type. For these patients, we are their last chance of life.
Currently we can only find a matching donor for half the people who come to us in desperate need. We urgently need more people to join our register so we can provide more matches and save more lives.
Joining the register and becoming a potential lifesaver is a very simple process. If you are aged between 18-40 and in good health, you simply fill in the online medical form and, once your information has been checked by our expert team, you are sent a spit kit to provide a saliva sample for matching. You spit in the tube and post it back to us where it is sent to our labs for processing. If you come up as a match for someone who needs a transplant to save their life, we will be in touch.
Anthony Nolan especially needs young men aged 18-30 to join as they are the best donors for patients, but make up only 11% of our register. There are no bars on joining due to your sexuality, so gay donors are especially encouraged to sign up and potentially save a life.
If you aren't able to join the register, there are other ways you can help out. It costs us £100 to add each new donor to the register. As a charity we need more funds to increase our lifesaving work. Quite simply, the more funds we have, the more lives we can save.
For more information, please visit www.anthonynolan.org or find us on facebook.com/anthonynolan or twitter @anthonynolan.