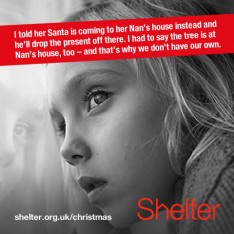 Well aren't we a lucky bunch! Christmas is only around the corner, I've put my Christmas tree up and even Dolly has a Christmas coat!
And because we are so lucky, its also a time of year when we really need to take a moment and think about how we can help those who are not as fortunate as us.
There is no better charity that I can think of that helps people at this time of year to have at least a little bit of Christmas cheer and one essential thing… a roof over their heads. That charity is Shelter.
Please, please, please take a moment and see how you can help their tireless work to help everyday people get off the streets and back into housing and a place they can call home.
Love you loads. xxx
75000 children will be homeless this Christmas
This Christmas, more than 75,000 children will wake up without a home to call their own. This is more than two children in every primary school in Britain.
Most of us think of homelessness as being single people sleeping rough, but in reality it can be whole families who through no fault of their own, can end up losing their home. The numbers tell us about families who have been put up in temporary accommodation by the council. While they have a roof for the night, this can mean whole families packed into one room in a homelessness hostel or bed and breakfast. Children will be sharing bathrooms with strangers, parents have limited or no access to a kitchen or washing machine, and many possessions and pets will have been left behind. It's no way for a child to live, and no way for them to spend Christmas.
Shelter is very concerned that homelessness is rising again, which means more individuals, couples and children going through the heartbreak of losing their home.
How do people lose their homes?
It can take very little for someone to lose their home. It can be a one-off event, or many smaller problems adding up. For some, homelessness can be as swift as a job loss meaning that they can't pay the mortgage, or their landlord putting up the rent when they can't afford anywhere else. For others, breaking up with their partner means that one person can be left homeless, and one person can be left unable to meet the mortgage by themselves.
High house prices, high rents, and the big rise in the cost of essentials like food mean that family budgets are being squeezed. Sometimes it is a case of one squeeze too many, tipping families into a spiral of debt and missed housing payments that they can't pay back.
How does Shelter help?
Shelter helps over a million people a year struggling with bad housing or homelessness – and we campaign to prevent it in the first place.
In December alone, our helpline and local advice centre workers supported more than 1000 people who were homeless or at risk of homelessness.Shelter's teams across the country advise on debts, personal finances, legal issues, liaising with mortgage lenders and landlords, doing everything we can to help people stay in their home. If someone does end up homeless, then we help people to find a roof over their heads for the night and advocate for their right to get help from their local authority. Our helpline is open all year round, including Christmas Day.
We're here so no-one has to fight bad housing or homelessness on their own.
For more information and advice, visit www.shelter.org.uk.
To make a donation, Text HOMES to 87085 to give £3 to Shelter emergency Christmas appeal or visit the Shelter website.