Hey guys, welcome to February, the month of Valentine's day and big thick jumpers and snuggling by the fire! Love it! I want to introduce you to the Peter Tatchell Foundation. I have known of Peter's work for quite some time and couldn't speak more highly of the gentleman that he is and also the passion and drive which has led his campaigns for so many years. If only he was at the top we would live in a much more equal and fair society where every man, woman and child would be treated with the same respect and dignity! So here is a salute to Peter and his foundation – please support them in whatever way you can. Loads of love, your auntie Gok x
The Peter Tatchell Foundation (PTF) seeks to promote and protect the human rights of individuals, communities and nations, in the UK and internationally, in accordance with established national and international human rights law.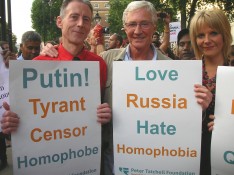 The aims and objectives of the PTF are to raise awareness, understanding, protection and implementation of human rights, in the UK and worldwide. This involves research, education, advice, casework, publicity, lobbying and campaigning for the enforcement and furtherance of humanitarian statutes and values.
The human rights aims and objectives of the PTF are charitable and with a public benefit. The PTF is independent and non-party political. Peter Tatchell is the current director of the Foundation and has been campaigning for Human Rights for over 47 years.
The PTF has spoken out for human rights in the UK and globally. In the last year in the UK, we helped win same-sex marriage and secure the scrapping of two legislative threats to free speech and freedom of expression.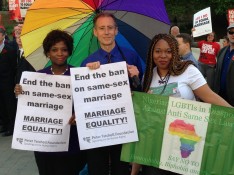 We are now working on new initiatives to challenge homophobia in sport, create dialogue with Muslim communities and expand our Education in Human Rights programme in schools and universities. Globally, we are raising awareness about the anti-gay law and human rights abuses in Russia and challenging homophobia within the Commonwealth.
As our human rights endeavours go from strength to strength, requests for advice, information and support grow ever greater. Increasingly, these requests come not just from within the UK but from all parts of the world. To find out more about our work please visit our website: www.petertatchellfoundation.org .
Can you help us?
We are urgently needing funds to continue our operation. The PTF depends entirely on individual donations we do not receive any statutory funding. £10 a month could help us provide advice to victims of discrimination and hate crimes but whatever you can give is greatly appreciated.
You can donate here: www.petertatchellfoundation.org/donate.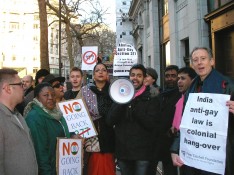 You can join the Peter Tatchell Foundation here to be kept updated with our latest actions.
Follow @PT_Foundation on Twitter