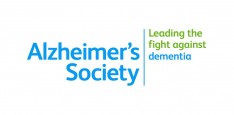 At the beginning of a new year which is full of hope and promise we can often be humbled by not only the suffering we see and read in the news but by those much closer to home. It is often the case that those that are nearest and dearest suffer in silence as they either struggle to look after themselves or are in the position of carer where they selflessly put others before them. The Alzheimer's Society are one of those hugely important charities which holds a beacon of hope and promise no matter what time of the year it is to all those who suffer with dementia, and for those whose hard work and dedication help to pursue a dream of giving those with dementia the best possible support they can in all aspects of their lives. Please take a moment to read further about this vitally important charity and how you can do your bit to support them.
Loads of love
Your Aunty Gok
xxx
Alzheimer's Society is the leading support and research charity for people with dementia, their families and carers. There are 750,000 people with dementia in the UK with numbers set to rise to one million by 2021.
The Society's fight for a better world for people with all types of dementia takes a wide range of forms. Through our network of local services, we touch the lives of over 30,000 people every week, providing practical services and support for people with dementia and their carers.
Through campaigning and lobbying we strive to influence government policies and raise awareness of the challenges faced by people with dementia and the people who care for them. And through our research programme we work to improve the knowledge we have about dementia and its treatment – and pursuing the ultimate goal of finding a cure.
There are a number of ways you can support us or get involved – below are just a few:
If you have jewellery that is either broken or no longer wanted, Alzheimer's Society can put it to worthy use by recycling it to raise funds in our Old Jewellery Appeal. We welcome jewellery of any kind – whether it's an odd cufflink or earring, or a bracelet or necklace that you no longer wear. Every single item is gratefully received, and the money raised will be used to fund our vital work.
Fundraising events are a great way to raise money and push yourself with a real challenge. From running a marathon or 10k to trekking the Great Wall of China there a number of ways to support us.
We're also always on the look out for volunteers. There are many opportunities available including helping us deliver services and supporting the running of events in your local area to working in our central office in London.
To connect with Alzheimer's Society and stay up to date with the latest news, events and discussions you can Like us on Facebook (http://www.facebook.com/alzheimerssocietyuk) and follow us on Twitter (http://www.twitter.com/alzheimerssoc).