Hello my lovelies! I want to introduce you to my charity of the month for July: WellChild. This really is a charity which is close to my heart as I have recently become god parent to my best friend's child and it has reinforced just how priceless a child's life is… and also how fragile! WellChild help provide the support that every child deserves – the best – no matter where they are from and what they may have wrong with them! Please read on and find out how you can support them! Thanks for reading my darlings! Kisses xxx
WellChild is the national charity for sick children and helps some of society's most seriously ill children and young people. We have WellChild Children's Nurses around the country helping children and their families right now – and with your support we will be able to reach even more!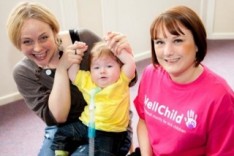 WellChild helps children like little Noah who has a condition so rare he is the only baby in the UK to have been diagnosed with it.
He has problems with his windpipe and a very rare form of lung disease. Noah endured numerous medical procedures to try to improve his condition, including a tracheostomy to open his airway, and was put on a ventilator which he requires 24/7 to help him breathe. Someone with the right training needs to monitor this the whole time to ensure Noah's airway remains clear.
But, after months in hospital, Noah has been able to return home to live with his family with the right care in place thanks to the help and support of WellChild Children's Nurses.
Noah's mum Jill said: "I cannot speak highly enough of our WellChild Nurse Katie and what she has done for us as a family. The transition home was so much easier under her care and she continues to help us tremendously.
"WellChild Nurses are worth their weight in gold. The support that they give is unrivalled."
WellChild's commitment is that every child in the UK, no matter what their situation, location or diagnosis, should have the very best possible quality of care.
The charity, which has Prince Harry as its Patron, funds a unique team of WellChild Children's Nurses who play an essential role for families across the UK. Those WellChild Nurses help to ensure that children can be cared for at home rather than in hospital wherever possible and make sure that families are able to meet the needs of these young people.
In addition, WellChild funds a number of other projects designed to provide support to families. This includes the charity's unique Helping Hands scheme which tackles individual home development projects – helping seriously ill children, young people and their families in truly practical ways.
WellChild also has a successful history of funding important and ground-breaking research aimed at improving treatment and care for children and young people. WellChild's programmes have helped many thousands of children and families and we are determined to reach many thousands more. www.wellchild.org.uk
If you would like to make a donation to WellChild to help our work with seriously ill children. You can donate by texting 'WELL33' followed by the amount you'd like to give to 70070. You can donate £1, £2, £3, £4, £5 or £10.
Follow @wellchild on Twitter https://twitter.com/wellchild
Join us on Facebook https://www.facebook.com/WellChildUK