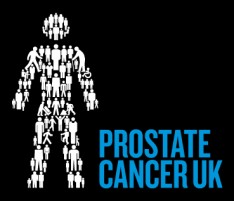 Hello my darlings! It's that time of the month when I get a little bit serious about life! If only it could be all fun and games. But the truth is that there are many people out there in need of help, comfort, consolation and knowledge. We are so lucky that in 2013 we can call on so many charities to help those in need. Some of the most important ones are those that open our eyes to the problems and illnesses that are around us every day but we neglect to see – and these things are what we need to fight the most! Prostate Cancer UK is relentless in their fight and I would love you guys to read on and find out how you can get involved and potentially save lives!
Hugs and kisses, Gok xxx
Prostate Cancer UK www.prostatecancerUK.org wants to get people talking. Talking about a disease that kills one man every hour, 10,000 every year, a disease which is already the most common cancer in men and is predicted to become the most prevalent of all cancers in the UK by 2030.
Despite these 'killer' facts, prostate cancer is simply not on the nation's radar. Most men understand little about it or the risks they face as they get older. There is also a very real legacy of neglect to overcome within healthcare and research. Tests for diagnosing prostate disease are often unreliable, there are widespread disparities in care, and many men are faced with a confusing array of treatments which often carry big risks of damaging side effects.
For too long, men have had a raw deal. It is time for this issue to be pushed right to the top of the UK's health agenda. And Prostate Cancer UK has made a fantastic start.
The prostate gland is only the size of a walnut. But it can mean big trouble and something pretty huge is needed to crack this problem. Earlier this year, Bill Bailey launched our Sledgehammer campaign which challenged everyone to grasp the scale of the disease and to appreciate the impact it has on too many men, their loved ones and friends.
But that was just the beginning.
This month will see the next stage – an amazing awareness campaign around Father's Day, June 16th, leading up to the TV premiere of a star-studded drama.
Our aim is to get people talking – and not just men. We know that men don't like talking about serious health problems… especially those 'below the belt', so we want the women (and partners) in their lives to start those conversations. We want 'significant
others' to sign up to the Stand By Your Man pledge. We need them to talk to the men they care for about the risks of prostate cancer. Whether it's a partner, father, son, brother, cousin, friend or workmate, we need Other Halves to take the Stand By Your Man pledge.
We know that nearest and dearest can make a real difference. 250,000 men are living with prostate cancer and that number is rising at an alarming rate. It's as big an issue for men as breast cancer is for women. The breast cancer movement is an inspiration to Prostate Cancer UK. We need to create that same galvanizing sense of momentum and inspiration. And we want men's Lovers and Others of every hue to help drive that. Please pledge to Stand By Your Man, however many men you care about.
What is our ultimate purpose?
To help more men survive and enjoy a better quality of life. We believe men deserve better.
What do we want?
The best diagnosis, treatment and support for all men with prostate cancer and other prostate diseases, and to cure or to prolong life without unwanted side-effects.
What do we do?
Support men living with prostate cancer and prostate disease, and the effects of treatment, by providing specialist information and support services.
Find answers by funding research into the causes and treatment of all prostate disease.
Lead change by campaigning, creating conversations and co-operating with others.
We are embarking upon one of the most ambitious and comprehensive improvement programmes in the history of men's health in the UK.
We will spend around £25million in the next three years, tripling our investment in world class research to identify better diagnosis and treatments for all stages of prostate cancer. Getting prostate cancer under the microscope as never before, we will search for more effective, less invasive tests and treatments with fewer side effects.
We're boosting our investment into support services with a range of innovations designed to reach men where and when they need support. We're extending our services to reach more men where they live, through community support and teams of expert nurses on the ground, filling the gap between hospital treatment for prostate cancer and care by a GP.
We're going to train and educate more health professionals, working with them to share knowledge of innovative practice, developing standards for the highest quality care.
Men Deserve Better.
Prostate Cancer UK (formerly known as The Prostate Cancer Charity) is a registered charity in England and Wales (1005541) and in Scotland (SC039332).
Twitter: @ProstateUK
Facebook: www.facebook.com/prostatecanceruk