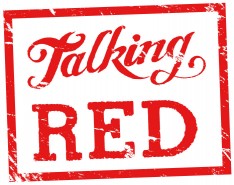 A very happy June to you all my lovelies!
Wow this year has flown by, I am currently writing to you from down under in Melbourne where I'm filming right now.
As you know every month I have a special charity I like to tell you about because I feel that there are many causes that don't get the exposure and recognition they deserve, and unfortunately there are many many people who are in desperate need of charity and I feel it is our duty to do what we can to help. I think this months charity, The Haemophilia Society, epitomises what is not only great about charity, but also why platforms such as this are so important to let the world know what charities are out there and how we can help. Please take a moment to read about their incredible work and particularly a new campaign called Talking Red which deserves so much support.
Love you guys and thanks for reading.
xxx
The Haemophilia Society – Talking Red
The only national charity dedicated to supporting people with bleeding disorders, The Haemophilia Society has, for more than 60 years, campaigned for better awareness, and been a trusted source of information and practical advice for people affected.
Because these conditions are rare there is still a lack of awareness, and many people don't realise that women suffer from bleeding disorders too. In fact, thousands of women today across the UK are living with the symptoms of a bleeding disorder without even knowing it.
We are determined to rectify this by launching a new campaign, Talking Red, to make women more aware of the symptoms of a bleeding disorder – heavy periods, bruising easily and prolonged bleeding after a procedure or childbirth – and to promote better understanding of what it means to live with such a condition.
Bleeding disorders can't be cured but there is effective treatment available, so our message is get Talking Red to help the thousands of women who are suffering in silence.
Launching on June 14, the awareness week will be packed full of activities and will culminate in Red Knicker Night on June 21, the longest day of the year. On that night we are asking supporters around the country to walk, party, or even workout wearing red knickers to show their support and get people talking! It's an opportunity to be bold, have fun and support The Haemophilia Society at the same time.
Or perhaps you could Paint It Red for the week instead? Not the town, your nails. Get some friends, family or workmates together for a nail party, or wear red polish for the week to show your support.
For all the information you need to get involved, including an event pack, essential information on bleeding disorders, and more on the work of The Haemophilia Society visit: www.talkingred.org
Like us on Facebook https://www.facebook.com/HaemophiliaSocietyUK
& follow The Haemophilia Society on Twitter @HaemoSocUK for all the latest events in your area.
Don't forget you can donate to The Haemophilia Society anytime by texting GRED14 £3 to 70070