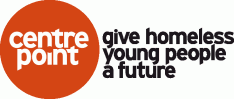 I went to a fabulous evening with Centrepoint last month. While the night was full of fun (check out the picture below with me and the radio 1 team), it had a serious purpose – and that was to raise money for homeless young people.
Centrepoint supports 16-25 year olds who find themselves sleeping on the streets, on night buses, in warehouses or moving from sofa to sofa.
These young people become homeless for loads of different reasons, from escaping abusive parents to family breakdown.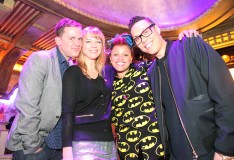 Keep up to date with everything Centrepoint does on Facebook and Twitter and online.
Find out more about Centrepoint below,
Love
Gok x

Centrepoint – giving young people a future
Centrepoint is the UK's leading charity for homeless young people. It has hostels all over London and in Sunderland and supports more than 1,000 16-25 year olds a year.
Not only does it provide a safe place to sleep for anywhere between a few nights and two years, but it helps young people get their lives back on track.
Off the streets and into work
Centrepoint supports young people into education, training or employment and has a dedicated health team that supports them with everything from sexual health and mental health to fitness and healthy cooking classes.
Centrepoint also partners with homeless organisations across the UK, offering its knowledge and expertise to help thousands more homeless young people.
You can help these young people by buying them a gift – anything from a hot meal to books for college. Find out more at www.centrepointgifts.org.uk
But this is still just a fraction of the 80,000 young people that experience homelessness in the UK every year that's 1 in every 100!
Centrepoint was set up in 1969 and, since then, has helped more than 75,000 young people.
80% of our young people move on successfully – living independent and positive lives.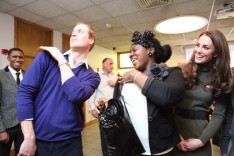 Prince William is our Patron
http://www.centrepoint.org.uk/our-patron
Diana, Princess of Wales, was a huge supporter and, since 2005, her son, Prince William, Duke of Cambridge has been our Patron.
Here's a picture of him doing the 'swag dance' with a Centrepoint young person during a visit to a hostel.
John's story
Don't just take our word for it – here's John's story:
John had a troubled and unstable childhood, with his schizophrenic father leaving when he was just four years old. John's mother would take her frustrations out on her children and as the only boy, John often bore the brunt of her attacks. John's earliest memory is being kicked hard in the stomach by his mother. He was just five at the time.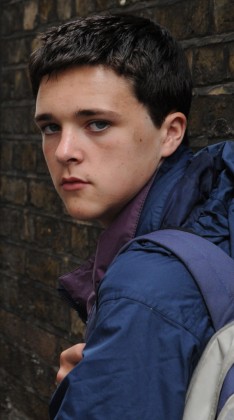 By 15, John was regularly sleeping on benches or in a derelict flat. He was surrounded by danger, but it was still better than suffering violence at home. After four years of living rough, John's physical and mental health was in a terrible state. He turned to drink, self-harming and even became suicidal.
Eventually, John was admitted to hospital and brought to our attention. He had his first shower for a very long time, finally feeling clean and relaxed.
Being at Centrepoint meant that he finally had a warm, safe room, which John took great delight in keeping clean. He describes it as "perfect".
Since being at Centrepoint, John has found having access to counsellors really useful to help him overcome his personal and mental issues. He has taken advantage of life skills classes, which have helped him learn about budgeting, paying bills and cooking. John's biggest love has been reading, with his desk always filled with books on economics, marketing, physics, philosophy and theology.
Read more stories on Centrepoint's website.
(John's picture is posed by a model to protect his identity)
What can you do
There are loads of ways you can support Centrepoint. Here are some ideas:
Influencing the MPs
As well as working with young people directly, Centrepoint works hard to influence policy at both a national and local level.
It talks directly to MPs and local authorities, campaigns for change on things like bringing back face-to-face careers advice (check out the amazing Nine Rooms campaign – and watch Nine's Choice – a hard, but powerful film).
And it carries out its own research to find out the real reasons why young people become homeless, the impact it has on their lives and what can be done to stop youth homelessness.
Keep an eye out on Facebook and Twitter for updates and see how you can get involved.