Happy November everyone!
For those of you who haven't been blown away by the crazy wind we have been having, I want to introduce you to a my very special charity of the month for November: Hearing Dogs for Deaf People.
I'm sure all of us know how wonderful and essential a guide dog is for someone with a visual impairment, but I certainly never appreciated how important it must be for someone who is deaf to be made aware of all of the sounds of life we take for granted everyday.
These hearing dogs enable deaf people to become aware of all those important sounds, and enable them to interact with the world so much easier.
Please take a look at this incredible charity and support them in whatever way you can.
Loads of love my darlings
Auntie Gok xxx
Hearing Dogs for Deaf People www.hearingdogs.org.uk is a national charity that trains very clever dogs to assist people who are severely or profoundly deaf. These amazing dogs alert their owners to the sounds of the doorbell, telephone, alarm clock and smoke alarm, and can even be trained to alert new mums to the sound of the baby monitor!
Hearing dogs are life changing, and as well as providing practical support to their deaf recipients, these wonderful four–legged friends offer greater independence and give their deaf person more confidence to connect with the hearing world.
The charity has created over 1,830 life-changing partnerships between deaf adults and children and hearing dogs, and there are currently over 800 working partnerships nationwide.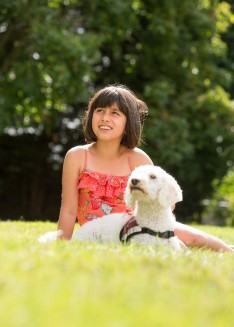 Let's Hear It for Deaf Children!
Hearing Dogs also train dogs for deaf children like eight year old Sarah Mohammadi. When Sarah was born, she contracted a viral infection which resulted in hearing loss and some learning difficulties. But it wasn't until Sarah was two and a half years old that she was diagnosed as severely deaf, by which time she had very little speech.
Sarah became very frustrated trying to communicate with her family, and she so badly wanted to make friends with other children at nursery, but her lack of communication made that difficult. She began to learn British Sign Language, but this didn't help her to communicate with children in the hearing world.
Up to the age of eight years old, Sarah had never slept in her own bed, as she was too frightened to be alone in silence at night. She would always go into her parent's room for comfort and security. Extreme tiredness just compounded her frustration at home and school, and she found it difficult to concentrate.
Two weeks before Christmas 2012, Sarah received the gift of a hearing dog; a white Cockapoo called Waffle. The first night that Waffle slept in her bedroom, Sarah slept there for the first time too. She describes him as "the best present I could ever get."
Sarah's mum Sabedah describes Waffle's arrival, "Sleeping in her own room was just, well, wow! I can't put into words how incredible that was. Sarah has just been so happy to have Waffle there at night. She feels more secure. For a few nights she would wake up just to check he was still there, but now she sleeps soundly. He's made such a huge difference to Sarah but he's also changed the quality of our lives too."
The family has noticed many other changes in Sarah too. Before she had Waffle , Sarah was afraid to talk to new people, "Whenever someone new tried to talk to Sarah, she would hide behind me. Now Sarah will happily take Waffle to the park to play football and when she meets new people she proudly says 'This is my dog!' She's so much more confident, her speech is developing and her real character has come out. Her school teachers say her concentration is better and she is becoming more independent. This is exactly what we wanted for her when we applied for a hearing dog, and Waffle has been amazing."
Teachers and parents can download our free educational resources and Let's Hear It fundraising packs at www.hearingdogs.org.uk/letshearit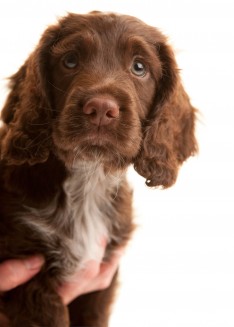 Sponsor a cute puppy like Pepe!
Hearing Dogs for Deaf People have their own breeding scheme and the training of each dog takes around eighteen months.
However, one particular hearing dog puppy called Pepe had a very tricky start to life. He was part of a litter of seven Cocker Spaniel pups born earlier this year, but his mum Molly did not have enough milk to feed all of them. Within a few days, the puppies were losing weight and were very hungry, and being the smallest pup in the litter, staff worried that Pepe wouldn't pull through.
Staff and volunteers worked tirelessly through the night, enduring sleepless nights to care for Pepe and took it upon themselves to hand rear and bottle feed him.
Thanks to ongoing patience, love and care, Pepe is now a robust and healthy young dog with a very special future ahead of him, and one day he will become a specially trained hearing dog for a deaf person.
Visitors to Gok Wan's Fabulous Charities page can now sponsor Pepe's training as a gift for a loved one – or even sponsor him themselves!
Sponsorship starts from just £3 a month and the welcome pack includes regular updates on Pepe's progress, a certificate, a 'pennies for your puppy' collection kennel, stunning photos and more exciting gifts. Sponsors donating £5 or more per month will also receive a cute and cuddly soft hearing dog toy www.hearingdogs.org.uk/puppysponsorship
Anyone sponsoring a hearing dog puppy before 30th November will also be entered into a prize draw to win £50 worth of Hearing Dog goodies.
Find out more about Hearing Dogs for Deaf People at www.hearingdogs.org.uk or follow them on Facebook www.facebook.com/hearingdogs and Twitter @HearingDogs