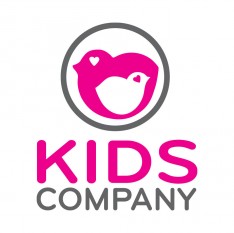 I don't even know where to start with Kids Company- they really are a remarkable bunch of people! I had the privilege of working with them when we were filming the documentary Secret Millions. Although together we managed to get them some much needed funding from the National Lottery, sadly its just not enough to support all those kids and families who really suffer everyday- in conditions I didn't think existed in this country anymore! Please, please, please take a few minutes out of your day to have a look at their amazing work and find out how you can support them!
Big love to you all! xxx
Kids Company was founded by Camila Batmanghelidjh in 1996. We provide practical, emotional and educational support to vulnerable inner-city children.
Our services reach 36,000 and intensively support 18,000 children across London, including the most deprived and at risk whose parents are unable to care for them due to their own practical and emotional challenges. For many, the roles of adult and child are reversed and, despite profound love, both struggle to survive.
These exceptionally vulnerable children not only negotiate significant challenges in their family homes, they also face immense threat within their neighbourhoods. Often they are exposed to relentless violence, some are forced into working as drug couriers or prostitutes, and many experience chronic abuse.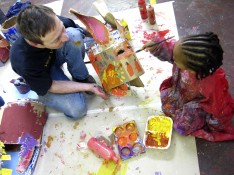 We provide a safe, caring, family environment where support is tailored to the needs of each individual. Our services and support empower children who have experienced enormous challenges to lead positive and fulfilling lives. Despite great difficulties, the children we work with are hugely courageous and embrace the support we offer.
In 2007 Kids Company was awarded the Liberty and JUSTICE Human Rights Award. In 2010 we were selected as a 'Child Poverty Champion' by the End Child Poverty project for our success in enabling children to achieve their full potential.
Poverty Busting
Many of the 18,000 children and young people that we support live in exceptional poverty and have experienced chronic neglect and abuse. We see the impact of such acute deprivation at our centres every day, which is why we need your help to restore dignity and hope to these courageous children.
Our Child Poverty Busting Programme strives to get the basics in place so that our young people feel empowered to improve their lives. Some children lack a bed to sleep in, warm clothes, and are surviving their childhood without food in their homes.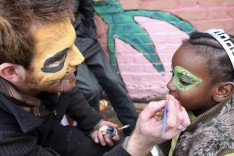 Whether you can help with practical items like furniture or new clothing, or help raise funds, or offer some of your time – we would love to hear from you. Please contact us at povertybusting@kidsco.org.uk to discuss how you can get involved. Unfortunately we cannot accept any second hand goods.
Alternatively, you can buy items right away from our John Lewis gift list. They will go directly into the homes of our young people, overseen by our team. (Gift list number: 539419.)
We thank you wholeheartedly for your kind support.
Gladrags and Handbags
Kids Company and Grazia Gladrags & Handbags Designer Fashion Sale 11th – 13th October 2013
On 11th – 13th October, Kids Company and Grazia are joining forces for Gladrags & Handbags, our annual three day designer fashion sale!
Gladrags & Handbags will take place at the Loading Bay Gallery, Old Truman Brewery, Dray Walk E1, just off Brick Lane.
Supporters will be able to lay their hands on stunning clothing, bags and accessories from top brands including Burberry, Alexander McQueen, Prada, Vivien Westwood, Paul Smith, Mulberry, Reiss, and many more, at amazingly reduced prices. All items are donated with 100% of the proceeds going directly to Kids Company.
The event will raise money for our Christmas period, when we will be supporting over 4,000 of London's most vulnerable children, young people and their families on Christmas day. Each child will receive gifts and a yummy Christmas meal as well as a party with games and entertainment for all. We will also provide food gift bags for over 7,500 people in the hope of easing the stress during what can be a very difficult time of year.
Loading Bay Gallery, Old Truman Brewery, E1
Nearest tube: Shoreditch High Street, Liverpool Street or Aldgate East
Opening times:
Friday 11th October: 9am – 8pm
Saturday 12th October 10am – 6pm
Sunday 13th October 11am – 5pm