Hello my darlings,
I would like to introduce you to my charity of the month for September; brainstrust. I met Meg Jones, the founder of the charity, recently and she told me all about all the incredible work that they do, and in particular all the fantastic people they support – both patients and their carers. I can't even start to imagine how tough it would be emotionally and physically to deal with a brain cancer diagnosis, so I strongly believe in giving support to those who make that special difference to help patients get back to normality, or at least create an environment where their quality of life is a huge priority. Please check them out and see if you can support in any way. Oh and one thing you must do is join me on the 1st October for 'Wear Grey for a Day' when I will be donning my grey garments to support brainstrust.
Love you loads,
Gok  xxxx

Doctors call brain tumours a 'rare cancer'. The disease affects an estimated 8000 people a year in the UK. However the impact of the disease is huge. Not only are the people who are diagnosed facing a cancer diagnosis, but a disease that can drastically change the very person they are, on the inside and out.
brainstrust was set up 6 years ago to help people manage this journey, and to take control from the minute they're diagnosed with a brain tumour. The charity is currently helping over 800 brain tumour patients and carers with its 24/7 support line and innovative approach to patient and carer information. For help and advice, visit www.brainstrust.org.uk or call 01983 292405.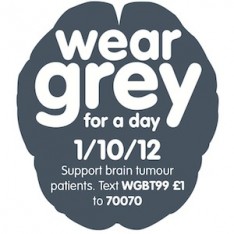 Next month, on October the 1st, brainstrust and over 3000 people from the brain tumour community are asking the UK to 'Wear Grey for a Day' to raise awareness of the impact of brain tumours, and the work that brainstrust does to make things better for patients and carers. We'd love it if you could join in. Find out more about Wear Grey for a Day, and brainstrust's work at www.brainstrust.org.uk
www.twitter.com/brainstrust
www.facebook.com/brainstrust
Registered charity no. 1114634