Hello my lovelies,
I'm sure its back to school for many of you! I don't want to start on a sad note for your new term, but it is sad to know that so many school children don't get a simple breakfast before they start school. A lot of these kids have gone hungry over the holidays for many different reasons! So I am asking you to help support this amazing charity called Magic Breakfast which helps to provide breakfast to the most needy children so they can concentrate on their education rather than their empty tummies!
It can be as simple as giving £2, which gives a child breakfast for 2 weeks – just text 'FACE02 £2' to 70070. It really is that simple! Have a read on to see more about their work and how you can help!
Love you guys, and whether you're going back to school or back to work, have an amazing September!
xxxx
Magic Breakfast's Back to school campaign: #brekface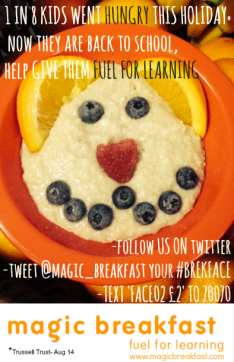 Our work at Magic Breakfast is important as the children we support go back to school.
We want to raise awareness of the issue of child hunger in the Uk (did you know that 1 in 8 children went hungry over the holidays?) and the work that Magic Breakfast do (feeding 14,500 children by the end of the year).
We're asking supporters to tweet or share on Facebook a picture of their breakfast with a smiley face, using the hashtag #brekface and then to follow us on Twitter or like us on Facebook.
You can also donate £2 to Magic Breakfast by texting FACE02 £2 to 70070. Everyone who sends us a #brekface and follows us on Twitter or likes us on Facebook will be entered into our competition for the chance to win £100 vouchers!
Find out more on our website: magicbreakfast.com