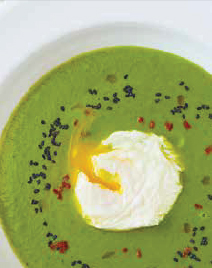 I consider my culinary tastes to be quite honest and rustic, however there is a side of my personality that plays to the flamboyant. I love fine dining, but it's not just about ironed tablecloths and hot waiters. It's also about carefully choreographed dishes served with precision.
But who has the time or patience? This dish screams fine dining but without the hassle or expense. It is hugely dependent on the natural colours of the ingredients: the deepest of greens juxtaposed with the dark speckles of sesame seeds, contrasted with the poached egg. It is worthy of any cover of Vogue – fashion week in a bowl!
SERVES 4
4 eggs
1 large head of broccoli, florets and stalk separated
1 tbsp rice bran oil or vegetable oil
4 spring onions, trimmed and roughly chopped into 2cm pieces
a 2cm piece of fresh ginger, peeled and finely chopped
1L hot, light, low-salt vegetable stock
75g le!over cooked rice (or a packet of instant rice)
a pinch of sugar
2 tbsp soy sauce
1 tbsp sesame oil, plus a little extra to serve
2 fresh red chillies, deseeded and finely chopped
1 tsp black sesame seeds
optional: salt and white pepper
Poach the eggs for 3–4 minutes in gently simmering water, until the white is opaque and the yolk is just firm to the touch. Place in a bowl of cold water until needed.
Chop the stalks of the broccoli into rough 1cm pieces. Heat the oil in a large saucepan over a medium heat. Once hot, add the spring onions, the chopped broccoli stalk and the ginger. Sweat in the hot oil for 1 minute before adding the hot stock, cooked rice and the broccoli florets.
Increase the heat and bring to the boil. Add the sugar and simmer for about 15 minutes, or until everything is very tender and !lls apart when pushed lightly with a spoon.
Stir in the soy sauce and sesame oil, and then, using a jug or stick blender, blitz until you have a smooth soup.
Taste and season with a little salt and pepper if you think it needs it.
Place a poached egg in the bottom of each soup bowl and pour the soup around the egg. Scatter over the chopped chilli and sesame seeds and drizzle with a little extra sesame oil.