Thanks guys for all your giggle stories from Twitter today they are fantastic! Below are my favourites you tweeted @therealgokwan and @goksworld. You can also use this blog to upload your favourite stories that have made you roll on the floor, pee your pants or cry with laughter! I want to hear them all!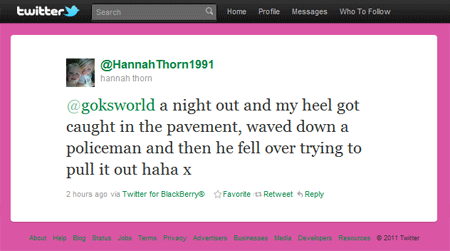 From EnglishKirsty
@therealgokwan @goksworld Remembering peeing on a BFs hand, had her hand under cubicle after loo roll, refused to give it,laughed&sprinkled
From aimzk1990
@therealgokwan @goksworld doin 2 sneezes @ the same time. Pullin an awful face…but telling the customers at morros its not too contagious
From shazzanater
@goksworld my daughter holly is known as the phantom farter. No matter where we r she will drop one. And they are always loud. Lol xx
From helentaylor75
@goksworld LOL when my teenage daughter said "do they really have people sit and knit shredded wheat like the advert?" makes me chuckle 🙂
From CarolMadCow
@goksworld my little boy makes me laugh when he poops & looks to see what it was then wafts his hand saying poo
From gb_taylor97
@goksworld when I bounce on a trampoline and every time I bounce I let out a bit of pee by accident..
From quierobesos
@goksworld @therealgokwan It doesn't matter how old you are…..When the ketchup bottle farts… It's FUNNY!!!! 😉
From Jo1201
@goksworld when my daughter walked in2 a wall, I burst out laughing. Unfortunately, being 6 mths pg also led 2 me weeing myself! Last laugh?
From Vikkij19
@goksworld I always laugh when my mum coughs and accidently farts too….because she pretends it was her shoes squeaking 🙂
From MrsMingo
@goksworld my husband having a complete squirmy fit over the skin on milk. He's a big rufty, tufty squaddie but is terrified of milk skin.
From TheresaDevlin
@goksworld when my 3 year old tries to make sense of the world. She asked me if cows have bum holes!
From honeyb1974
@goksworld my 3yr old daughter makes me laugh, my husband farted and she said "daddy, your bottoms talking", haha. Xx