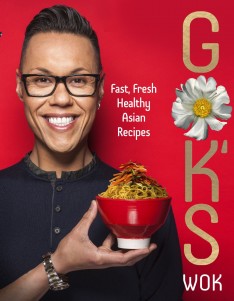 In his brand new book, Gok shares his favourite recipes for fresh and healthy meals – inspired by the flavours of Asia
Gok's recipes draw influence from the East, as he teaches us how to add flavour and a splash of originality through his distinctive style of simple, fast cooking.
Chapters cover all occasions from lunch ideas to dinner parties and date nights and include curries, stir-fries, noodles, salads, soups and even desserts.
He shares many of his family's traditional recipes too, but gives them a modern twist for today's kitchen tables – try Shanghai Chicken and Spring Greens, Malaysian-style Prawn and Crab Soup and Spicy Beef Thai Noodles Gok-style. And, running throughout, are Gok's words of advice on wok cooking, his favourite ingredients and tips on preparation and entertaining Gok-style.
For Gok, great eating should be hassle-free, and these recipes are exactly that – tasty dishes that are low stress, good for you and make minimal mess.
This title will be released on October 10, 2013.